WELCOME
SWP Environmental Services Co provides environmental compliance management to utility construction companies. Our expertise in the utility industry allows us to help our clients complete their projects in an environmentally efficient manner. Our team focuses on giving our clients the best solutions, commitments and results. We look forward to assisting you with your environmental needs!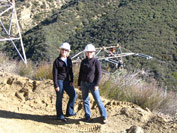 WHO WE ARE
Headquartered in Canby, Oregon,
SWP Environmental Services Co
, concentrates on environmental consultation services for the construction industry. Our team understands that protecting our environment
and its sensitive resources is an integral part of today's construction industry. With this in mind, the
SWP Environmental Services team
is experienced in environmental compliance management in conjunction with electrical utility and general construction.
SWP Environmental Services brings expertise in environmental permitting, mitigation planning, inspection and monitoring, erosion and sediment control, and restoration to construction projects in Oregon, Washington, Idaho, Nevada, Alaska and California.
SWP Environmental Services Co is a certified Disadvantaged Business Enterprise (DBE), Woman Owned Business Enterprise (WBE) and Emerging Small Business (ESB).